Roll over image to zoom in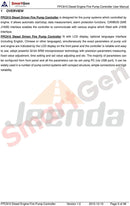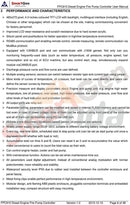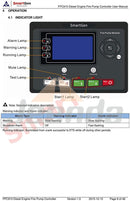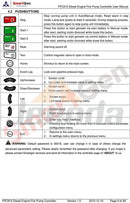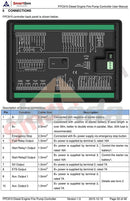 Description
Technical Specifications:
Display 4.3 inches TFT-LCD (480*272)
Operation Panel Silicon Rubber
Language Chinese & English & Others
Digital Input 18
Analogue Input 7
Digital Output 12
Monitor Interface RS485
Programmable Interface USB/RS485
IP Protection Class IP55
DC Supply DC(8¡«35)V
Case Dimensions(mm) 237*172*45
Panel Cutout(mm) 214*160
Operating Temp. (-25~+70)℃

PERFORMANCE AND CHARACTERISTICS
480x272 pixel, 4.3 inches coloured TFT-LCD with backlight, multilingual interface (including English, Chinese or other languages) which can be chosen at the site, making commissioning convenient for factory personnel.
Improved LCD wear-resistance and scratch resistance due to hard screen acrylic.
Silicon panel and pushbuttons for better operation in high/low temperature environment.
RS485 communication port enabling remote control, remote measuring, remote communication via ModBus protocol.
Equipped with CANBUS port and can communicate with J1939 genset. Not only can you monitoring frequently-used data (such as water temperature, oil pressure, engine speed, fuel consumption and so on) of ECU machine, but also control start, stop, simultaneously expand module viaCANBUS port.
Discharge pressure curve and flow curve are user-defined.
Multiple analog sensors; sensors can switch between resistor type and current type using jumper.
More kinds of curves of temperature, oil pressure, fuel level can be used directly and users can define the sensor curves by themselves.
Precision measure and display parameters about Engine and pump unit; e.g. engine high water temperature, low oil pressure, over speed, high water pressure, low water pressure, over flow and other kinds of fault indication and protection function.
Payment & Security
Your payment information is processed securely. We do not store credit card details nor have access to your credit card information.